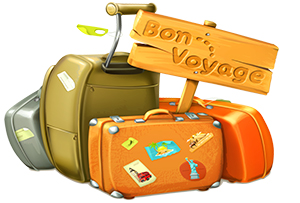 As veteran travelers, we know that making it through the security line is nothing less than a refined science, brought about through trial, error and the occasional streak of good luck. Consider the following tips and make it through airport security faster and easier the next time you fly.
Enroll in Programs
CLEAR, TSA Pre, and Global Entry programs allow you to use a separate line through security. With these programs, you become a "Trusted Traveler" because you have been pre-screened by Homeland Security.
Perform Your Own Pre-check
Make sure to have all the essential paper work in your hands. Put all loose change, metals, valuables, cell phone, etc. in your jacket pocket or bag before putting it through the X-ray machine.
Dress up to Dress Down
Belts, shoes, jewelry, watches, jackets, and hats are some of the pieces of clothing you will, or may need to remove before walking through the metal detector. Dress accordingly.
Pick the Right Time to Fly
According to Airport Security wait time trends, Fridays between 4pm and 8pm (local time), holidays, and three-day weekends are when security lines are the busiest. If you have flexibility, go with a smaller airport because they are less crowded.
Travel Tip — Surge Three Sixty Five