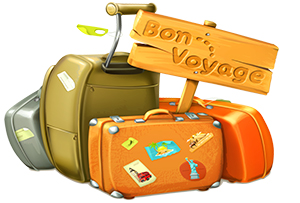 Whether you're spending the festive season cozying up in a cottage nearby, or jetting off to spend the holidays on the beach, don't miss these essential tips for enjoying your well-earned break away from home.
Pick Somewhere Family-Friendly
Any parent knows that traveling with kids can take a lot of planning. The good news is that many family holiday vacation spots strive to understand what families need and provide it.
Plan Ahead
The winter holiday season might be the most wonderful time of the year for kids, but it's also the busiest and most booked up in advance. Before you make any promises about holiday events, festivals, shows, theme-parks or experiences, check what's available and reserve your tickets.
Create New Traditions
No sense hauling that heirloom Christmas tree ornament or that hand-crafted menorah or Kwanzaa bowl across the country. Instead shop at a local store to find inexpensive paper wall hangings and pop-up centerpieces. Traveling offers an incredible opportunity to build new family memories and traditions.
Family Back Home
In the holiday excitement, be sure to stay connected to all important grandparents, aunts, uncles and cousins back home. Whether you choose Skype or FaceTime, have your apps and devices organized and ready to go before you travel.
Travel Tip — Surge Three Sixty Five