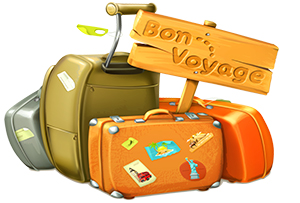 Avoid Driving Yourself to the Airport
Airport parking prices rise around the holidays due to increased travel traffic. See if a friend can drive you to the airport, call a cab or pick-up service, or look into public transportation options.
Get There Early
Millions of people are going to be traveling this holiday season. Assume that there will be tons of traffic and long lines at check-in and security, so be sure to arrive extra early.
Avoid Excess Airline Fees
Pack lighter to avoid checking a bag, don't pay the extra money for priority boarding, and avoid upgrading to first class. If you do plan to check bags, register them online before heading to the airport. Skip the Wi-Fi fees and don't buy food or drinks on the plane. Instead, pack snacks from home or enjoy the complimentary options that the airline provides.
Get Free Flight Upgrades
If you're bumped on an oversold flight, try to negotiate for an upgrade on your next flight. If you're a frequent flyer or club member with the airline you're flying with, you can also try to score an upgrade. Arrive early if you plan to try this; it's a lot harder to negotiate in a rush.
Travel Tip — Surge Three Sixty Five