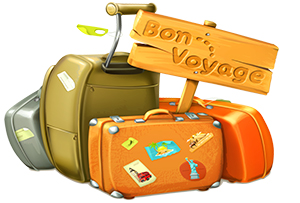 This Thanksgiving, the airline industry expects 12.3 million roundtrip passengers and AAA expects 46.3 million Americans to hit the road. Here are expert tips and tricks for making one of the busiest travel holidays of the year easier than ever. You can thank us later!
Be Mindful and Thoughtful
Can holiday travel feel stressful? Does it help to take out your frustration on fellow passengers and travelers? It doesn't have to be this way. Frame your journey as an exciting adventure. Everyone traveling has a similar goal to celebrate Thanksgiving with loved ones. Practice slowing your breathing if long lines or traffic are causing you stress.
Travel Light
Everyone flying will be packing carry-ons to accommodate their journey. Overhead compartments will fill up quickly. Try to pack everything into a backpack that will fit under the seat in front of you. If you have gifts or bulky items, consider shipping them to your final destination ahead of time.
Travel at Odd Times
The day before Thanksgiving is the busiest travel day of the year, closely followed by the Sunday after the big day. Fly to your destination a few days early and fly back on Friday when the masses are out shopping the best deals of the year. Drive through the night to avoid traffic.
Stay Connected
Smartphone users can take advantage of apps that provide updates on airline statuses, road traffic, weather, and current news. Social media is a great resource to be the first place to hear about anything that might go wrong with your flight. Airlines can also be more responsive to public pleas of assistance on social media.
Travel Tip — Surge Three Sixty Five