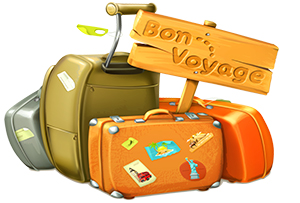 As summer fast approaches, now is the time to plan the best vacation ever. Whether you just decided to book a trip and are beginning to dive into the planning process, or you already have the basics of your vacation taken care of and need help sorting out the rest, we are here to help.
Define Your Intentions
Setting an intention for your trip will give you focus and meaning during your travels. Deciding beforehand the purpose of your vacation – such as rest and relaxation, sun and beach, or exhilaration and adventure – will help the planning process. Make sure to finish this step and begin booking your trip at least 2-3 months ahead of time for the best hotel stays and airfare.
Plan And Let Go
Our time off from work and school is precious, and though it may seem necessary to plan each day of your trip down to the minute, the fun of adventure comes from leaving some aspects to chance. Plan the important logistical items and then let your feet be your guide through the city, stopping whenever something grabs your attention.
Fly Early
Nothing puts a damper on the start to your vacation like a delayed or canceled flight. While that is out of your control, there is one surefire way to help you avoid such stress and anxiety: fly early. Airports are less congested in the early mornings and bad weather typically surfaces later in the day. This will also get you to your destination earlier, and in some instances, help alleviate the side effects of time changes and jet lag.
Find Some Nature
Connecting with nature by walking along a river, camping, or sitting on the beach, will help you slow down and enjoy life at a slower pace. If you end up somewhere without cell phone coverage, use that time as an excuse to do a digital detox. Technology is a common comfort which often consumes much of our time and diverts our attention away from our surroundings. Don't forget to soak in the beauty of the world around you.
Travel Tip — Surge Three Sixty Five